bMetrix™ COVID-19 Vaccine Inoculation Management, Member Communication and Reporting Solution is a standalone application that allows for streamlined tracking and reporting of COVID-19 vaccination data.
With the release of COVID-19 vaccinations, hospitals and health systems will play a critical role in distributing, tracking and reporting vaccination administration. As these are multidose vaccinations, health systems must also be able to ensure that patients receive the second dose as indicated and that both doses are from the same manufacturer. In order to accurately track and report these vaccinations, health systems need an efficient digital application that streamlines tracking and reporting.
bMetrix significantly reduces the time spent on vaccination adminstration by eliminating the need for paper and allowing for preset parameters to reduce setup time. 
Features
bMetrix is a standalone application that allows for easy-to-use tracking and reporting of COVID-19 vaccination data.
bMetrix features:
Customizable: Offers the ability to customize workflows and set vaccine parameters.
Data Accuracy: Eliminates errors resulting from the manual transcription of vaccination data and member information.
Secure: All communication and storage are secured by industry standard encryption with SSL/TLS and is HIPAA-compliant.
Member Education: Ability to disseminate important vaccine information that underscores the importance of the second dose. This information can be included in member event registration emails and second dose reminder emails.
Member Communication: Send emails to individuals or groups regarding vaccination events and second dose administration, all within a single platform.
1. An eligibility file us uploaded to bMetrix to pre-populate member data. If an eligibility file is not available, the member is sent a link to register for the vaccination event.
2. Member arrives at vaccination event and completes online check-in. If the member was not pre-registered, they can enter their information on-site at check-in. No need for manual or paper registration process.
3. Once the member has checked-in, the vaccine administrator searches for the member's name in the bMetrix application and pulls up their record. The administrator inputs the vaccine information, including date, manufacturer, lot number, expiration date and location of the injection. The administrator can set these parameters as defaults to reduce time spent manually entering data.
4. Vaccination data is downloaded in a CSV report that can be sorted by company, date range and other defined metrics. The report can be imported into any database, including states' Immunization Information System (IIS) centralized registries.
1. Easy Member Registration via Eligibility File or Link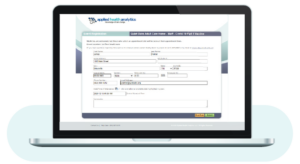 2. Event Check-in Allows for Pre-registered and Non-registered Members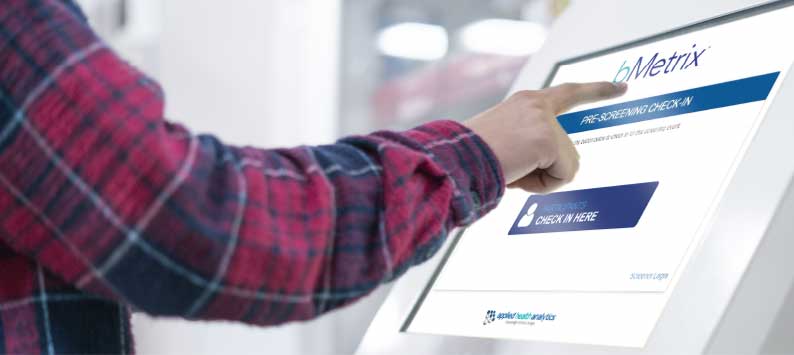 3. Vaccination Record Allows for Default Settings